Welcome to the gateway of ultimate efficiency and profitability! At USSI, we take pride in presenting cutting-edge warehouse carts that will supercharge your productivity and propel your business to new heights. With our revolutionary carts in your arsenal, witness a remarkable boost of 300% or MORE in the volume of products moved per trip, saving you valuable time and resources. Imagine the possibilities as your team accomplishes tasks faster, smoother, and with unparalleled precision.
Why settle for the ordinary when you can experience the extraordinary? Our top-tier carts are meticulously engineered to optimize your warehouse operations, ensuring a seamless workflow and maximizing every ounce of effort. Whether you're dealing with small-scale storage or large-scale distribution, our carts have the versatility and durability to meet your evolving needs. Unbeatable Mega Cart Sale – Elevate Your Success!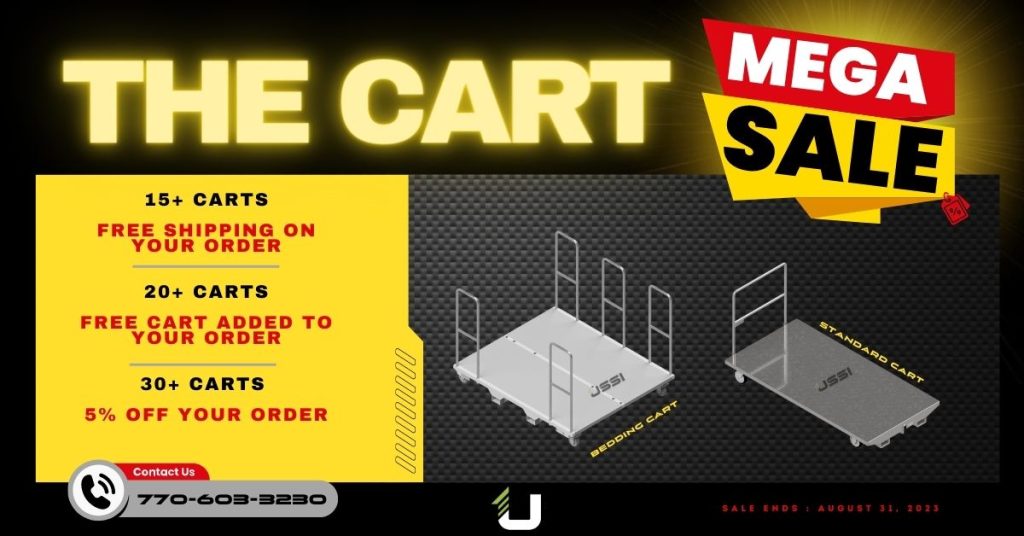 *SPECIAL OFFER IS ONLY VALID ON STANDARD CARTS AND BEDDING CARTS                              *SALE VALID UNTIL AUGUST 31, 2023
Now is the time to seize the opportunity that could transform your warehouse forever! Take advantage of our Mega Cart Sale to revolutionize your operations while enjoying incredible savings. Purchase 15+ carts, and we'll reward you with FREE shipping, streamlining your budget and eliminating unknown costs.
But wait, there's more! With 20+ carts, you'll receive a BONUS cart at no additional cost, instantly expanding your fleet and optimizing your throughput. And if you're truly ready to take the plunge, go big with 30+ carts and enjoy a phenomenal 5% discount on your entire order, fueling your success further.
Join the ranks of countless satisfied customers who have experienced the game-changing impact of our carts. From small businesses to large enterprises, our innovative solutions have earned rave reviews for their exceptional performance and reliability.
WAREHOUSE CARTS
Our research has shown that correctly utilizing our carts can boost the volume of product moved per trip by 300% or more.